-Gaise Ameer – B.Tech S2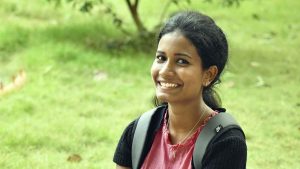 Aksa Elizabeth Sunny, any CETian would have heard this name, probably more than Sager Alias Jacky. A name we say with pride, whose picture we all set as our WhatsApp status for days so that our friends in IIT's and NIT's could see; because she is the one who created history by being placed in Adobe with a whopping salary of 39 lakhs per annum; the best offer till date in the history of CET.
The happiness and celebrations in the LH corridor were audible even from afar. It is this very woman, every girl in CET aspires to be like and every guy wishes to be with on V-Day.
The oniy daughter of Mr. Sunny joseph and Mrs. Sheeja Aney lype, caught her train from Alleppey to CET without much difficulty. Ever since her first year in college, she was active in cultural events, says her classmates.
As we saw her sitting alone in CS Square, busy with her phone. Jayasoorya Chettan. Robin, Krishna and I had no plan of letting her be. We had a barrage of questions that we wanted to ask her since the day of that mind boggling news. the five of us sat for a quickfire chat session.
It was Robin who starved things off"
Robin. : Chechi. ever since I came here, I've known you by your nickname (Pandi) before getting to know your real name,  how did you end up with such a nickname?

Aksa (laughing) : My friends. they are just crazy, They changed my pet name to Pandi, and now even my juniors call me by this name I

Krishna : How did you prepare for your interview?

Aksa : There was no special phase called Interview Preparation. You need to be good at basic topics such as Computer Networks,Operating Systems,Database etc… You also need to have good communication skills. Websites like GeeksforGeeks would do a great deal of help.

Krishna :Did you concentrate on any particular programming language?
Krishna wasn't done just yet.
Aksa: You Ought to be familiar  with either C++ or Java, You need to be . You need to be thorough In other subjects too

not just your coding skills is enough.

Gais : Have you done any technical projects or internships?

Aksa : No not yet interned, we never had fixed sem breaks or other holidays. But one needs to do internship programmes, it'll help you a lot.Students from all  other colleges will do internshps right from second year. You guys have a good platform for such things under KTU.

Robin : How did the "eventful" so called  CET life influence you?
Felt like she was waiting forthis question.
Aksa : Of  course these events are an integral part of the "CET LIFE". "CET LIFE", in those days was more of a cultural treat than just a technical extravaganza. It's the time in your life when you get enough chances to take up responsibilities and work as a team for a greater cause; everyone should try to be involved in such events as they help you to be team person rather than a lone wolf, it's fun being busy. I was the part of the sponsorship team for Dhwani last year.

Gais : Which are the moments from your 4 years at CET that you would cherish forever?

Aksa : Of course our IV days. We went to Delhi, Agra and Manali, it was just for 10 days but each and every moment of that trip with friends, is a precious memory to me.
I was also curious about what she would do with all the money
Aksa: I will be spending much and saving a part of it. I want to trave all around the world with my friends so I will be investing with that too.
And the Robin asked "the question"
Robin: Did you get any proposals after you bagged the offer?
And she burst in to a laughter
Aksa : Onnu poderkaa nothing such,  another Valentines day has gone by and I'm still single (Guys, she aint commited 😉 )
And then Jayasoorya found the inner feminist hidden within him.
Jayasoorya : Not many girls in our department comes in to the technical field , what do you think about it?

Aksa : It's all about interest bro. We can't drag anyone into it and if someone is eally interested he or she will surely find their way into it. Many girls are coming forward these days.

Krishna : You've been a student at CET for 4 years and that too of the prestigious CS department, what are your expectations of Dotslash?

Aksa : I am really looking forward to it. One can feel the vibe of the event on every face in the department. I have never witnessed any such event like this, in my  4 years at CET, where every singe person from our department is working so passionately. I am sure it's going to be the big first leap to something even more special.
It's a great feeling to think that among us live people of immense potential. Even with a mind blowing job offer i her pocket, Aksa Chechi is down to earth in her stands. She washed away any feeling of unfamiliarity feeling of  unfamiliarity between us in the shrtest span of time of our chat, and even enjoyed little pranks we played on her. And just as we bade goodbye to her, she seemed to remind that if you have true passion and skills enough to realize them, then the sky is the limit.