-Sarath Sreedhar – B.Tech CSE S7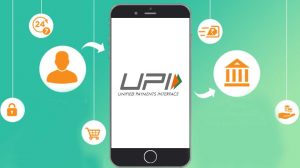 UPI or Unified Payments Interface made the  tedious process of banking easy. It is an initiative  put forward by NPCI to promote cashless  transaction. People don't have to wait for long in  bank instead save their money and time through  mobile payment. UPI became popular after the  demonization of five hundred and thousand rupee  note in 2016.As per data released by the National  Payments Corp of India which manages the UPI  railroads the total amount transferred through UPI  stood at Rs 13,144 crore in December against Rs  9640 crore in November. This is the first time the  platform has clocked more than Rs 10,000 crore in  a month.
Currently, if you want to make a bank payment  online, you have to enter their account number,  account type, Bank name and IFSC code. Even if  you have all these details, typing it all in, particularly  on a phone, is a painful process. Most banks take  upto 12 hours to add a new payee and only then  you can make the transfer. The idea behind the UPI  is to do away with all of this. The interface will  allow account holders across banks to send and  receive money from their smartphones using just  their Aadhaar unique identity number, mobile  phone number or virtual payments address  without entering bank account details.
According to NPCI, so far only 29 banks have  agreed to start this service.To initiate a  transaction, you can use two types of  address—global or local.This virtual address will  allow you to send and receive money from  multiple banks and prepaid payment issuers.So, you  will no longer need to use a particular app to send  and receive money. It also have a MPIN for  validating each transaction. The transaction are  highly encrypted to provide security. The interface  helps to link payee bank account to beneficiary  bank account using a pull and push request  providing data abstraction.
For example, if you use a taxi service, at the end of  the journey you just have to give your virtual  address and the driver will request money from it.  You will get a message on your mobile phone  asking for authentication. Once you authenticate  the transaction by entering your password, it will   be complete. This process doesn't require either   the driver or you to share bank details. Since UPI   runs on IMPS, the service will be available real time   and 24X7.
UPI has two factor authentication Mechanism. The   mobile number provides 1st level authentication   and Mobile Pin provides 2nd level authentication.   The UPI works on smartphones, hence no need of swiping card on external devices such as POS etc,   thus reduces the security hassles. It doesn't require   any sharing of card details through websites.
UPI is a great step in right direction and its is set to   become an efficient alternative to mobile wallets   and make cashless payments faster, easier and   smoother for millions of people in India. It has   potential to make micro payments cashless which   will benefit both buyers and sellers.